Hello, Crafty Friends!!
I have a uber cute sneak peek for you all using one of Pink & Main's NEW RELEASES for the month of May!! This set is called Magical Unicorns.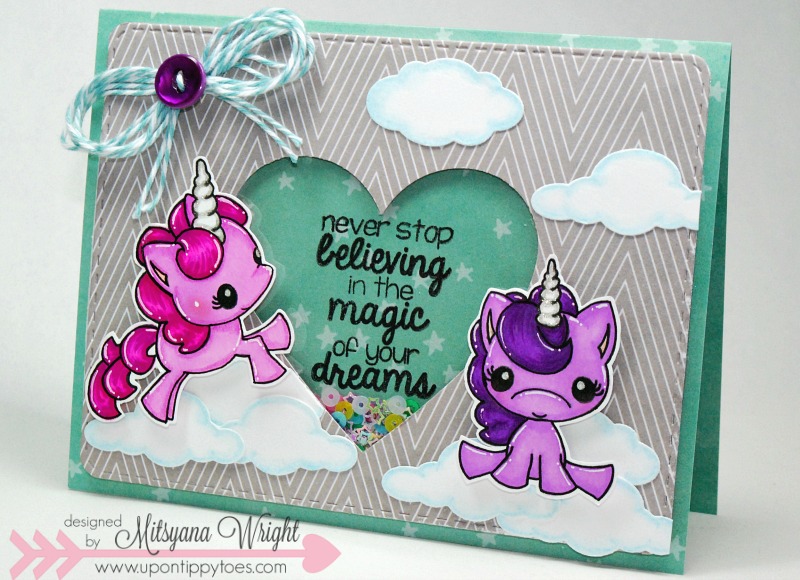 I can't count how many times I have said how much I am love with this set!! I know I risk sounding like a broke record... but this is, hands down, my all time favorite set and I LOVE, LOVE, LOVE IT!! I grew up in the 80's, and one of my favorite Saturday morning cartoons was My Little Pony! I absolutely loved the unicorn and pegasus ponies and adored the little baby ponies!! This set made me soooo nostalgic! And, it made me feel 9 yrs old again! LOL
Another New Release featured on this card, is P&M's new Stitched Rectangle dies... yes, stitched dies!!! These are nested rectangle dies with rounded corners... and the best part is they are PINK!!! Eeeeekk!!! And, not just any pink... a very bright, electrifying, HOT PINK!! OMG! Another SUPER LOVE!!!
Both of these will be released on
May 10th
and and available for purchase on the Pink and Main
website
.
This set
is
currently available. I use the clouds from this set quite a bit to make scenery on my cards. They are absolutely perfect!
I hope you enjoyed my sneak peek... stay tuned for more to come!!
Happy Stamping!!
~Mitsy